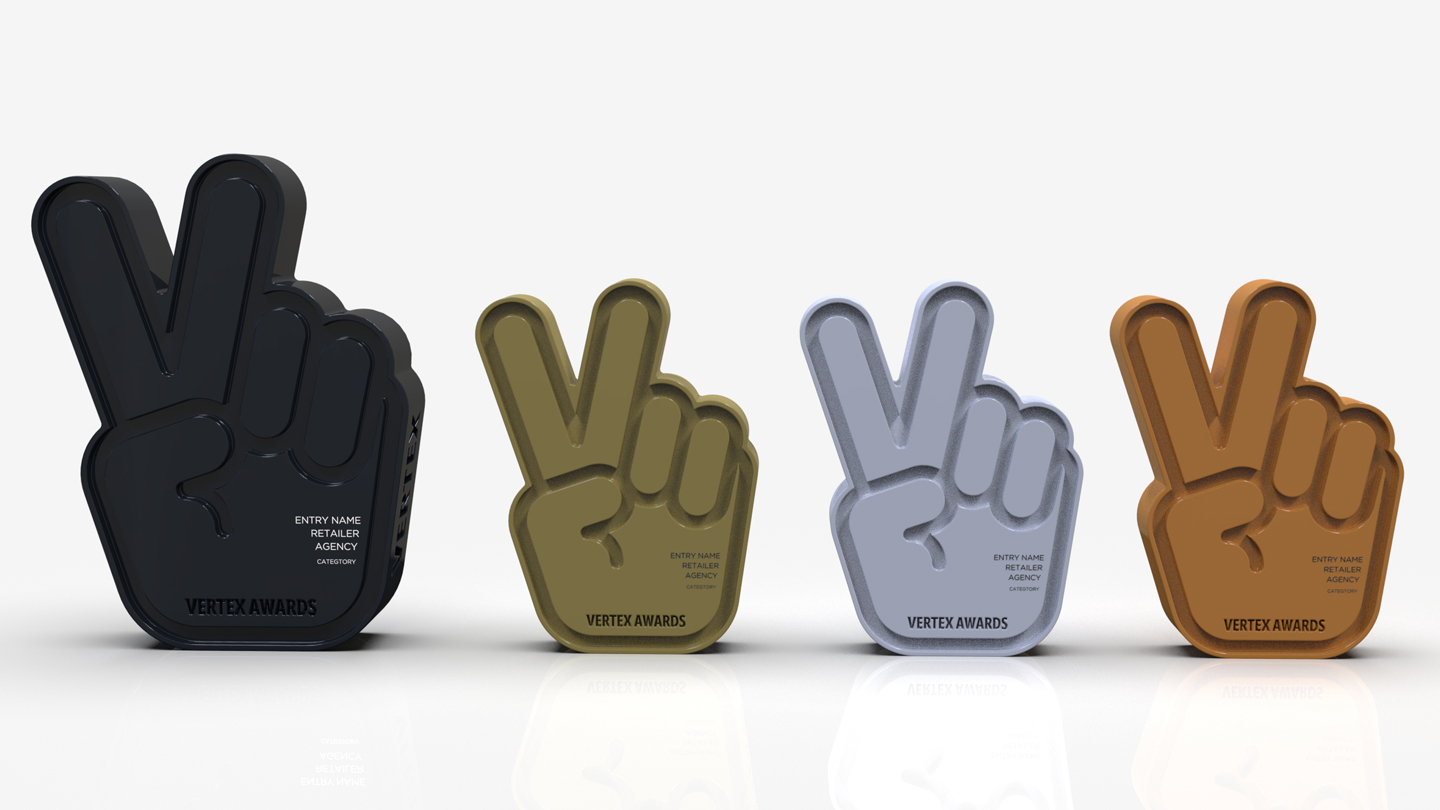 Since 2012, The Vertex Awards has honored innovative Retail-Owned Brand /private brand/private label /own brand design that demonstrates groundbreaking design solutions to consumer problems. The awards are judged by a highly esteemed panel of industry experts from around the world and awarded based on Creativity, Marketability, and Innovation. This year's competition celebrates the tenth anniversary of the Vertex Awards recognizing stunning design, innovation, and excellence. Over the last decade, we have awarded more than 1,000 trophies to over 125 retailers and 82 agencies from 63 countries worldwide.
The Vertex Awards are the only global competition devoted exclusively to the art of Retail-owned Brand package design. The Vertex Awards are proudly brought to you byVelocity Institute and  Global Retail Brands.
Rethinking the Brand
As a design competition, it seemed fitting to celebrate the Vertex Award's 10th Anniversary with a complete rethink of our brand. This radical reinvention sets the stage for the next ten years. So, we reached out to the Vertex Award-winning Spanish agency Supperstudio. The iconoclastic studio led by Creative Director Paco Adin has been named Vertex Boutique Agency of the Year and Pentawards Agency of the Year, as well as winning more Vertex Awards than any other agency in the history of the competition. And, of course, Paco and the team relished the opportunity to sink their teeth into the Vertex brand.
Their solution embraces the bold attitude of Vertex while reimagining it for the next decade.
V for Victory. V for Vertex
An Iconic Symbol
Winston Churchill's V for Victory sign is one of the most iconic of the Second World War. Though it started with a simple radio broadcast, the symbol took Europe by storm and became a rallying emblem for those under occupation. Seventy-five years from VE Day, V stands for far more than Victory; it stands for boldness, strength, never giving up, and WINNING!
V is the first letter in Victory in English and French, Catalan, Czech, Corsican, Greek, and Flemish.
Which makes it the perfect iconic expression of Vertex.
The New Trophy
Working with the concept from Superstudio we then tasked our long-time awards partner Cristaux International with bringing the exciting new brand to life in a modern trophy. The Vertex Awards Trophy is the essence of the new branding and is brought to life as a museum-quality bespoke sculpture by the artisans at Cristaux International. The new resin trophy comes to life in 4 new awards: the Major Awards (Black), Gold, Silver and Bronze trophies.
"We started the competition with the intent to celebrate the best, the most ground-breaking Retailer-owned Brand and package design," said Christopher Durham, president, of Velocity Institute. "We crossed our fingers people would want to join us on this journey, and we weren't disappointed. We're proud to say we have been instrumental in advancing private brand package design through the celebration of the best of the best each year. It's important to show the world that private brands from around the world have become a global leader in design."
"Believing private brand design and identity apply to more than just physical products, we've refreshed the Vertex Award brand identity with a completely reimagined brand design and website we believe is easier to navigate and has a modern feel," said Phil Russo, publisher, Global Retail Brands. "Combine that with the beauty of the new trophies themselves, and you have a groundbreaking tenth-anniversary celebration."
WHAT WINNER'S RECEIVE
WINNERS MAY ORDER ADDITIONAL TROPHIES BY CONTACTING: ldurham@velocityinstitute.org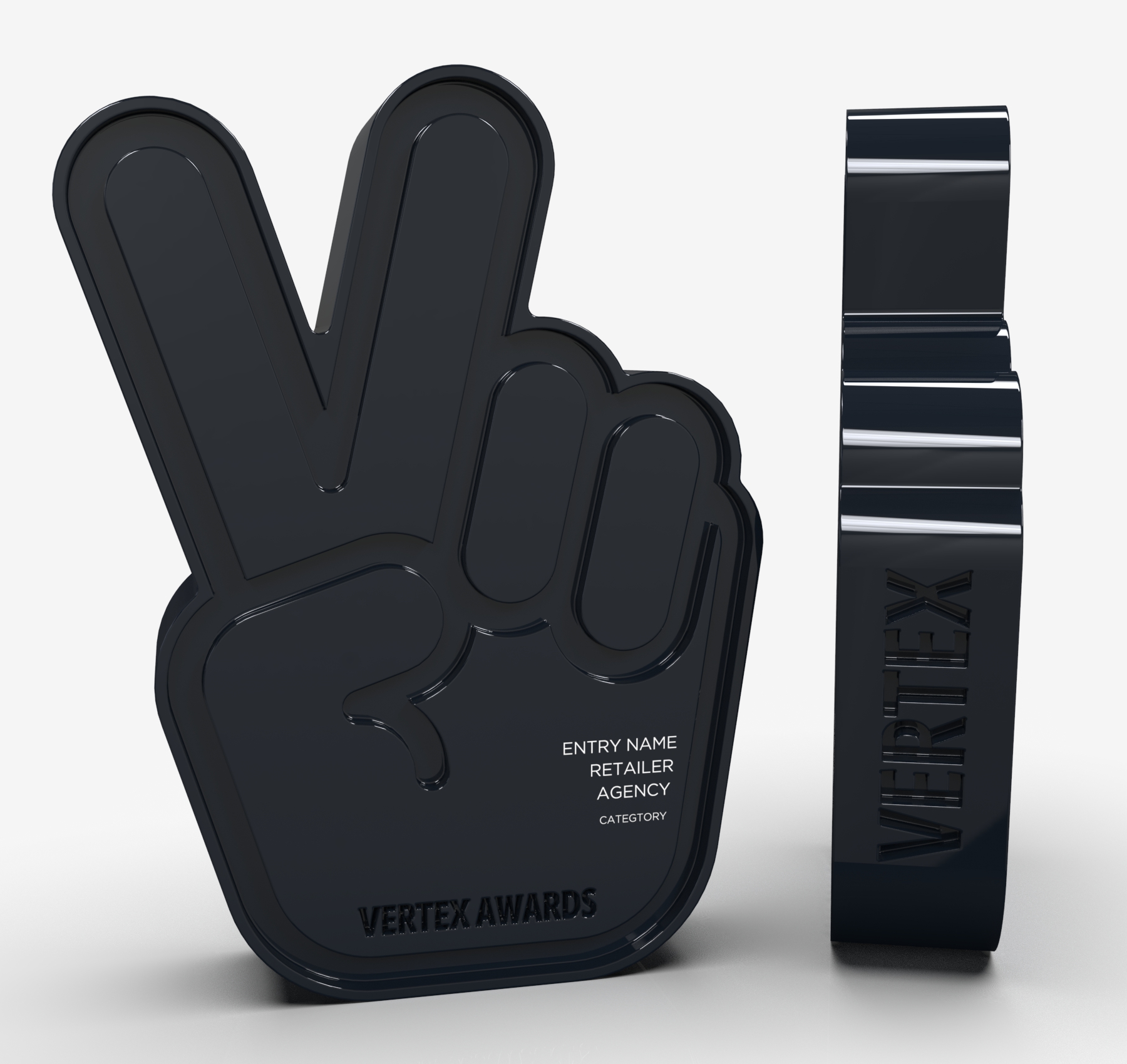 Publishers Choice, Best of Show, Retailer of the Year and Agency of the Year