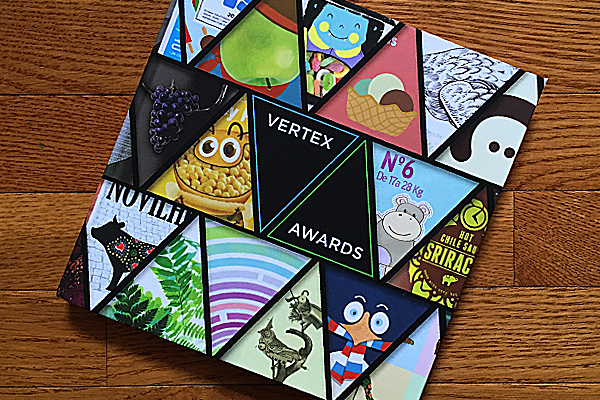 Today I am proud to launch this years  Vertex Awards Volume II: International Private Brand Design Competition
book is now available on Amazon. The 194 page full color 8"x 8" hardcover book, designed by the retail-branding agency Theory House, celebrates the 83 outstanding design winners from around the world.
The response to this year's Vertex Awards was overwhelming with more than 250 entries from 21 countries and 55 retailers. This year's winners included the first ever entrants from Asia and Africa joining a truly global list of entrants from Angola, Australia, Brazil, Canada, China, Denmark, Hong Kong, Italy, Malaysia, the Middle East, The Netherlands, New Zealand, Poland, Portugal, Singapore, Spain, Taiwan, the United Kingdom and the United States.
We saw exciting growth in the New Brand, Brand Redesign and Packaged Goods categories as well as in the Licensed or Co-Brand, Beverages: Alcoholic, Pet Products, Home Décor, Entertainment and Health Care categories.
Take a look and you will discover outstanding design from all around the world. Retailers are playing to win and creating compelling customer-focused brands.
And don't miss the "Five Questions" interview with our esteemed panel of design experts from around the world who took their charge to heart and devoted their time and energy to selecting the best of the best: Rick Barrack, Maggie Bean, Paula Bunny, Don Childs, Maria Dubuc, Masanori Eto, Ruth Galloway, Jean-Pierre Lacroix, Loe Limpens, Angelo Morano, Glenn Pfiefer, Gustavo Piqueira, Fred Richards, Kevin Shaw, Zhou Wenjun and Adrian Whitefoord.
Qualifying designs must have been introduced in-store between November 2013 and November 2014. Judges scored each entry on five criteria: design, information architecture, originality, structure, and x-factor. An overall numeric score was then assigned to each entry. Gold, Silver and Bronze Awards were awarded based on the numeric score, as a result, there are some multiple winners at a given level.
TO GET YOURS TODAY ON AMAZON CLICK THE LINK BELOW!
Vertex Awards Volume II: International Private Brand Design Competition