This year there were two entries that caught our attention. The first CO-OP Halloween combines a playful childlike spirit with clean modern design to create a truly memorable pack. The second Tul Pro from Office Depot combines contemporary design with premium finishes to create a brand that would feel at home next to Apple or Tesla.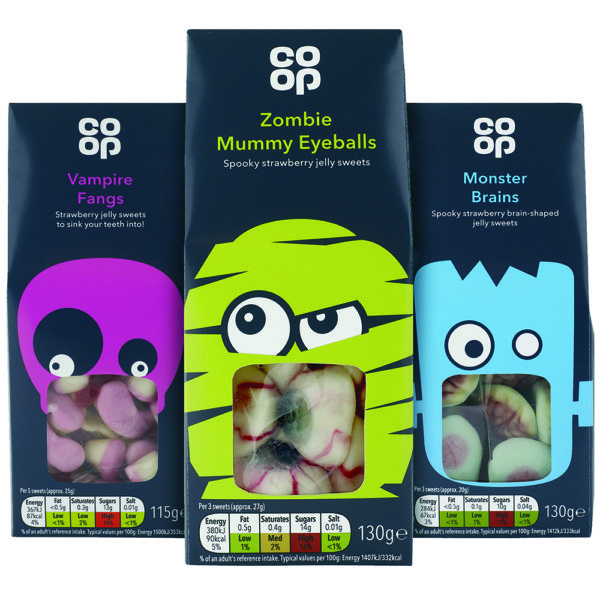 CO-OP HALLOWEEN
RETAILER: CO-OP
COUNTRY: UK
CATEGORY: B4. Holiday Or Limited-Edition
AGENCY: Equator Design
CREDITS:
Brand Manager: Brooke Fletcher
Account Manager: Tony Hornby,
Art director/Designer: Glyn Robinson, Stephen Reilly
SUMMARY:
Co-op's Halloween re-design gave us the frightful challenge of making the brand's seasonal products look fun and engaging, and of course, spooky. To suit Co-op's compact display areas instore, the packaging and POS called for eye-catching design, without being tacky or cartoonish. Becoming fully immersed in Halloween, and calling in enthusiasts from the stateside studios (after all, Halloween is serious business in the US), We created a monster mash-up of creepy characters, led by its monster star, "Mummy".
To add a touch of refinement to the ghoulish gallery, the design's graphical styling utilized a bold punch of color for the central figure, standing out from a midnight-blue background. What a treat it was when Co-op later decided to develop new products utilizing the full mash of monsters, including Mummy, Pumpkin Head and Bare Bones.
TUL Pro Pens
RETAILER: Office Depot Office Max
COUNTRY: United States
CATEGORY: H7. Office
AGENCY: Office Depot
CREDITS:
Brand Managers: Rachel Tibor & Josie Sandoval
Creative Lead: Danielle Stella-Fischer
Design Manager: Marjolijn Elbert-Chung
Production Designer: Terry Coffy
Print Manager: Sharon Gross
SUMMARY:
The minimalistic design and premium finishes are what defined this packaging design. The raised spot UV contrasts with the matte soft-touch finish and creates an elevated premium experience.