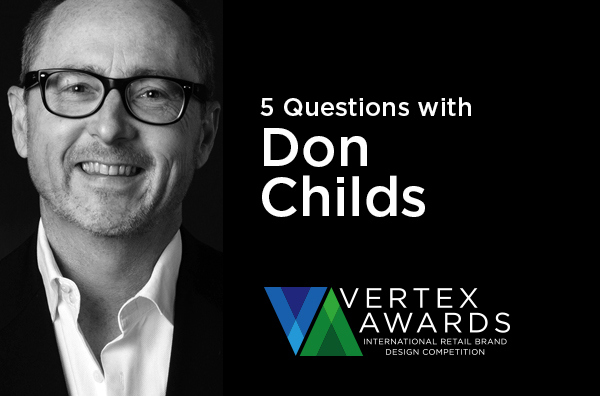 In preparation for the judging of the annual Vertex Awards International Private Brand Design Competition I sat down with each of the judges and asked them five questions about Private Brands, package design and differentiation – their answers present a unique global perspective and depth of knowledge of the retail brand space.
Don Childs, SVP, Executive Creative Director, Brandimage Cincinnati, Ohio United States
What was your first memory/experience of Private Brand?
My first memories of "private brand" were from our local Jewel store. It was the 1980's and I was a teenager in suburban Chicago. I recall walking through the front door right into row upon row of nondescript white packages with olive drab stripes and stencil type that described the product inside: Cola, Cheese, Breakfast Drink. I remember thinking they must have been "rejects" from the companies who made the real thing, stuff that wasn't good enough or didn't make the grade. Of course it wasn't for me… I reasoned it was for people who couldn't afford "the real thing". Who would buy a store brand if they didn't have to? I would skirt that entire section because it felt more like a sad warehouse than a vibrant grocery store.
What does the future of retail owned brands look like?
With the competitiveness between National and Retailer Brands with retail brands moving beyond parity in many cases, I believe we're looking at a paradigm shift where consumers see retailer brand as more innovative. They will be agile, reacting to consumer's tastes and shifting desires.
National Brands' equities used to be the brass ring retailers grasped at because consumers saw that s the guarantee of quality. Now that same NB equity can be a shackle that keeps National brands from being competitive. I'm seeing that too often the NB is dogmatically following it's own rules because they think it guarantees success. But it absolutely does not guarantee growth. "We own red" has become less meaningful in an age where fickle consumers look for variety and interesting new things. As the Emerson quote goes, "A foolish consistency is the hobgoblin of little minds". The future is about fun and innovation. It's about listening, reacting and even predicting.
The recession pushed consumers toward retail brand by necessity, now the tipping point has come where retailers cannot become complacent and consistent like national brands had. Stay hungry, keep thing like a challenger. Experiment a bit, prototype on a small scale, rapidly exploit success and quickly walk away form failures and leverage the retailers' strength; versatility, agility and control of the shopping environment.
How important is strategy to the success of a Private Brand?
Strategy is key and the foundation of good strategy is insight. From insight comes meaningful ideas that solve problems in a relevant, compelling and distinctive way. A good strategy with a keen insight leads to eureka moments; it's the spark, our muse. It leads to inspirational design essence, values and verbal/visual principles that activate the brand strategy.
What role should design play in solving retail problems?
Design is the interpreter/salesman that motivates and inspires an audience to behave a certain way. Brand design goes far beyond "advertising". As the bridge between brand and audience it plays an essential role in being the voice, face and persona of a brand. When done well, it embodies the meaning of the brand and connects at a conscious, sub-conscious and non-conscious level.
What advice do you have for retailers trying to take their brands to the next level?
Two things:
Treat insight and design as an investment, not a cost. As I tell clients, the most elegant and thoughtful strategy is pointless if it isn't brought to life in a way that differentiates, connects and motivates to action. Don't lose sight of the big picture, trust the process. Compromise is OK, shortcuts are not.
Innovate and use your strengths as the retailer to create a safety net for experimentation. Never give up on acting like a challenger, stay on your toes and keep national brands on their heels.
Don Childs, SVP, Executive Creative Director, Brandimage
Cincinnati, Ohio United States
With nearly 25 years of experience, Childs has created award-winning, category-changing design, earning nearly 200 awards for his design, including two gold CLIOs. He believes design doesn't just create value, but shapes culture and impacts lives.