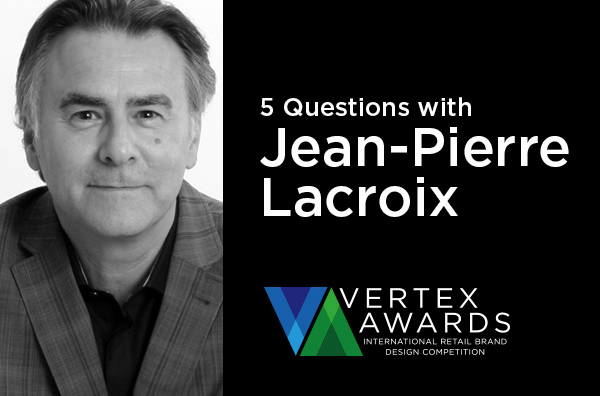 In preparation for the judging of the annual Vertex Awards International Private Brand Design Competition I sat down with each of the judges and asked them five questions about Private Brands, package design and differentiation – their answers present a unique global perspective and depth of knowledge of the retail brand space.
Jean-Pierre Lacroix, President, Shikatani Lacroix Toronto, Canada
What was your first memory/experience of Private Brand?
I was working on an assignment thirty years ago to reinvent a leading Canadian hardware chain and we developed a Good, Better and Best private label program. It was one of the first programs that leveraged a three-tiered structure ranging from an opening price point line of products all the way to a better than national line of offerings. The real challenge was to find suppliers capable of delivering on the quality levels we had established. The program was a huge success and what we found was the lower tier line help drive sales to the mid to high tier offerings.
What does the future of retail owned brands look like?
As retailers look to grow margin and further differentiating themselves, I foresee private label evolving and playing a more critical role. We are also going to see retailers who have fostered a house of brands strategy exploring a branded house approach to gain greater leverage of resources and purchasing power. We will also see new emerging retailers exploring house of brands to capitalize on emerging markets and helping them create greater differentiation. As more consumers shop online, the actual role of the physical package and how we merchandise products in an online world will also change. A study we conducted in 2012 and supported by a second study we completed in 2013 clearly identified the role of packaging will need to shift to reflect online shopping behaviors (larger pack formats and special niche varieties that do not warrant distribution across the entire network).
How important is strategy to the success of a Private Brand?
We coined the "BlinkFactor" phrase in 1990 to capture how consumers make buying decisions in retail environments where so many products are competing for the customer's attention. A key factor in creating this emotional lightning is the ability of brands to clearly communicate in the split second consumers make a buying decision their brand essence. As such strategy is becoming a key strategic tool that allows the development of clearly articulated value propositions and brand essences. Without these two elements, most private brands fail to breakthrough and emotionally connect with consumers.
What role should design play in solving retail problems?
It not so much about design as it is about design thinking, which plays a pivotal role in solving retail problems. We often get involved when the client has through internal process defined both the problem and solution. What design thinking provides is a platform to allow design options and opportunities, which may not have been considered by the client. It often helps gain alignment around what is truly driving success for the opportunity. I always say designers are the link between the business problem and the vision of the future ideal state as it allows the visual manifestation of that idea in a way all stakeholders can understand.
What advice do you have for retailers trying to take their brands to the next level?
My advice is simple, always start with the consumer, understand their missing deep emotional need states and then provide solutions that answer these needs.
Jean-Pierre Lacroix, President, Shikatani Lacroix
Toronto, Canada
Lacroix is a visionary design thinker, author and speaker, and serves as a board member with the Packaging Association of Canada. Over the past 20 years, he has built a reputation as an innovator, passionate about packaging design and branding.