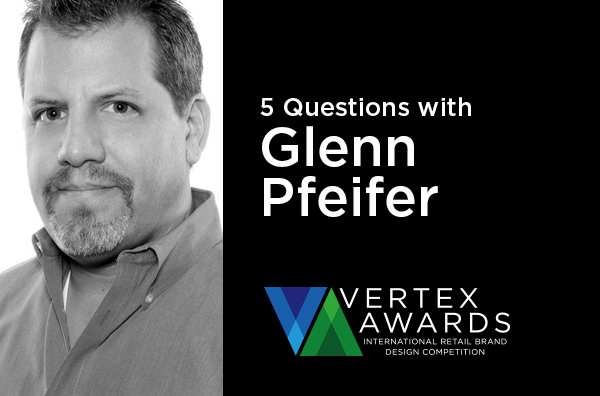 In preparation for the judging of the annual Vertex Awards International Private Brand Design Competition I sat down with each of the judges and asked them five questions about Private Brands, package design and differentiation – their answers present a unique global perspective and depth of knowledge of the retail brand space.
Today's conversation is with Glenn Pfeifer, Executive Creative Director, Galileo Global Branding Group, Connecticut, United States
What was your first memory/experience of Private Brand?
When I purchased my first home and immediately felt a budget crunch, I began to understand how retail brands were a great savings as a consumer – but it wasn't until I joined Daymon in 1994 that I realized the scope and breadth of how Private Brands were a real margin enhancer for our customers.
What does the future of retail owned brands look like?
The future of retail-owned brands is, quite frankly, in the hands of the retailers and the consultants and agencies who offer their expertise. If a retailer simply wants their private brand to be a brand alternative in major CPG categories, they will meander along the national averages for penetration and that may make them happy. But for the retailer who wants to offer a truly differentiated portfolio of exclusive brands complete with innovative products rooted in consumer insights – the sky is the limit.
How important is strategy to the success of a Private Brand?
Strategy is vital to every stage of developing a private brand. To start with, a retailer (or e-tailer) must understand what they stand for in the mind of the consumer and what is the perception of their master brand. Only when you know that and realize how you can leverage it can you build a relevant portfolio that makes sense for your business objectives. Being "me-too" across your categories will only get you so far no matter what business you're in.
What role should design play in solving retail problems?
Design can be such a key pillar for any brand in any business if they are willing to invest in it. In-Store experience, online experience and product experience can all be enhanced with great design and help many "middle of the road" brands break out from their competition. Obviously Apple, Target and Method are some the best examples of that.
What advice do you have for retailers trying to take their brands to the next level?
Take a stand for who you are and take some chances to show who you want to be. Retail has been a reluctant, slow-changing industry for so long and now technology and new formats have created a true paradigm shift in how consumers shop. If retailers don't innovate and market their brands seriously – they literally may not be around in the next decade.
Glenn Pfeifer, Executive Creative Director, Galileo Global Branding Group,
Connecticut, United States
Pfeifer is responsible for brand and creative development for packaging and shopper marketing clients. He brings a unique perspective to his work, having worked on marketing creative for a diverse global client list, including Citigroup, Sony, Bacardi and ESPN.