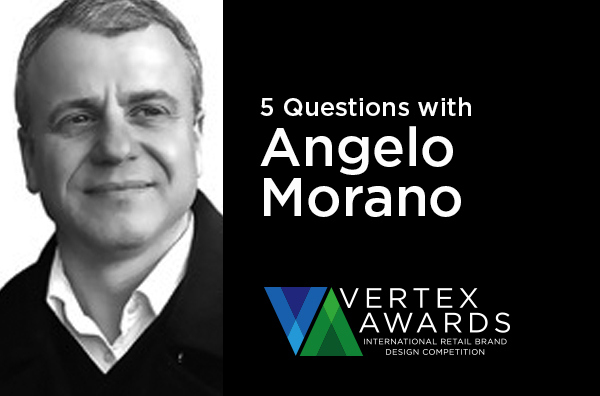 In preparation for the judging of the annual Vertex Awards International Private Brand Design Competition I sat down with each of the judges and asked them five questions about Private Brands, package design and differentiation – their answers present a unique global perspective and depth of knowledge of the retail brand space.
Today's conversation is with Angelo Morano, Designer/Art Director, Morano Design
Toronto, Canada
What was your first memory/experience of Private Brand?
My experience with private label began as a young designer working for Loblaws, Canada's largest retailer. At the time, Loblaws launched several well-known brands including "President's Choice". The President's Choice brand earned trust and loyalty among Canadian consumers and has since evolved from food products to many other consumer products. This experience provided a solid base for my professional career as a package designer.
What does the future of retail owned brands look like?
It's important for retailers to understand their target audience and consumer needs. This has become an increasingly difficult task as changes in the marketplace continue to grow at a faster pace. Finding a balance between brand consistency and an ability to adapt to quickly changing consumer needs will be necessary for a brand to stay relevant.
How important is strategy to the success of a Private Brand?
Strategy is paramount for the success of a private brand. A private brand often competes in the shadow of a national brand which dominates a large segment of the market. A successful private brand identifies a specific niche in a category and applies strategic package design. Important factors for any private brand are brand identity, value and consistency.
What role should design play in solving retail problems?
The role of design is to help a private brand 'talk' to the consumer.  Visually, the design should be impactful and strive for uniqueness in the marketplace. Effective design helps to build a product's identity, evoking emotion while conveying messages of necessity and function. A private brand can be successful when these elements work in harmony and are applied to a great product.
What advice do you have for retailers trying to take their brands to the next level?
There are many elements that work in concert to create a great brand. Taking a brand to the next level however, requires authenticity and consistency. Authenticity is remaining true to the convictions of the brand. For instance, if the essence of the brand is focused on value and price point and recognized by consumers as such, then it's important to continue with that path to avoid consumer confusion and uncertainty. Consistency is continuing to deliver what was originally promised, ensuring the consumer's expectations are met time after time.
Angelo Morano, Designer/Art Director, Morano Design
Toronto, Canada
Morano is an award-winning registered graphic designer and principal of Morano Design. With over 15 years of experience, he brings passion and modern design sensibility to his product packaging and brand identity projects. He has managed two of Canada's most recognized private brands: JOE FRESH and President's Choice.