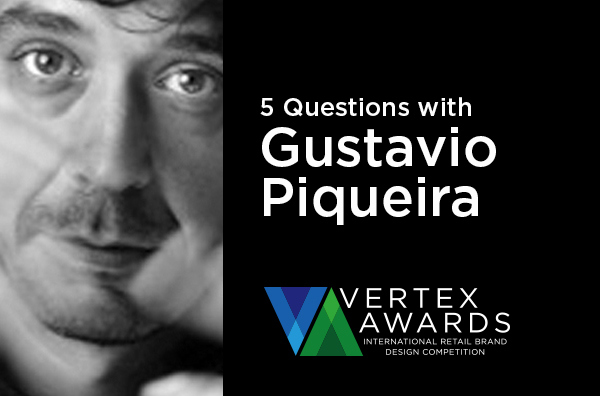 In preparation for the judging of the annual Vertex Awards International Private Brand Design Competition I sat down with each of the judges and asked them five questions about Private Brands, package design and differentiation – their answers present a unique global perspective and depth of knowledge of the retail brand space.
Today's conversation is with Gustavio Piqueira, Principal, Casa Rex, São Paulo, Brazil
What was your first memory/experience of Private Brand?
It's really hard to pin point a first brand, but it must have been years ago with one of those ' i'm cheap' looking products, probably didn't even catch my attention at the time, but now the world has changed quite a bit since then, and as we know Private Brands now play a wholly different role within the market.
What does the future of retail owned brands look like?
Private Brands were created as an answer to new market needs, a clear sign that the retail industry was able to innovate and adapt to new customer relations — moving from simply delivering a better price, to being able to connect with consumers on a level previously 'un-attendable' by regular brands. Thus these brands were able to create relevant personalities, with product lines more aligned with their target's lifestyle and aspirations.
However, of course, its almost impossible to predict the future in this current market, consumers needs are constantly changing, whilst traditional brands are also on the move, working on new ways to captivate their consumers on closer levels, and so, we can't know for sure what the future will look like. But, one thing is quite clear, as long as Private Brands continue to simply do what they have learned to do best — which is to understand its consumers needs, and search for unique forms of engaging them in new and closer ways — they will always ensure relevance towards their audience, and a strong place within the market.
How important is strategy to the success of a Private Brand?
If we consider the consolidation of Private Brands was mainly due to a vision that they were indeed different, and didn't need to present themselves to people in the ways standard traditional brands did; and this unique approach was what allowed them to break 'barriers' and re-shape the relationship between people and brands to a whole new level of engagement, then yes, I think we'd all agree that strategy is everything.
What role should design play in solving retail problems?
Design is the main interface between people, and the brands and products they seek. And its influence works on many levels, passing through the most basic human senses. In this way, a simple glance can have a major impact on people, directly affecting their emotions, and communicate nearly everything that person needs to know about a brand or product in a matter of seconds, even if unconsciously — and that's where design comes in. When a brand gives a special attention to matters related to design, and allows for it to go beyond a mere aesthetic tool, but to create a voice which truly reaches out and engages people, it is more than likely that retailers will have their products "jumping off the shelf ".
What advice do you have for retailers trying to take their brands to the next level?
One common problem is that sometimes it's very easy to cling on to 'successful' formulas, category benchmarks, but it is key to understand that there is not one right answer or formula applicable to all brands — what works for one particular case may not necessarily be the answer for everyone.
Gustavio Piqueira, Principal, Casa Rex
São Paulo, Brazil
Piqueira is the most recognized graphic designer in Brazil, receiving over 200 international design awards and serving as consultant to major global companies as a leading trendsetter. He has designed typefaces, illustrated children's books and written 13 books on various topics. Casa Rex won a Vertex Gold awards in 2013 for ANTO' and Tea Time Collection.