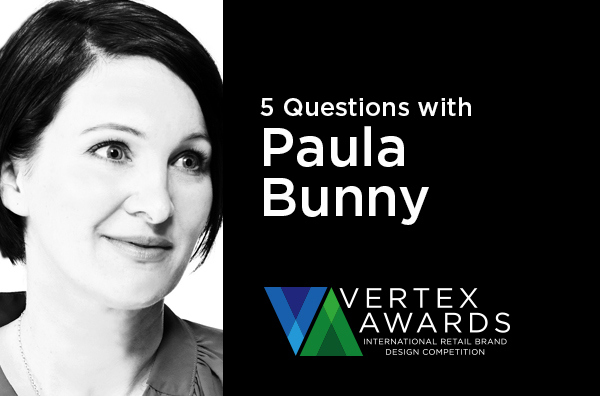 In preparation for the judging of the annual Vertex Awards International Private Brand Design Competition I sat down with each of the judges and asked them five questions about Private Brands, package design and differentiation – their answers present a unique global perspective and depth of knowledge of the retail brand space.
Today's conversation is with Paula Bunny, Creative Director, Brother Design
Auckland, New Zealand
What was your first memory/experience of Private Brand?
Seeing what Mary Lewis and her team at Lewis Moberly in London were doing with private label in the early nineties. She was the pioneer in my eyes of steering a course for design to enter areas of own-brand packaging. Most notably her designs for ASDA Wines & Spirits and her hosiery packs for Boots the Chemists, which stood out to me with their simply executed, yet brilliantly clever ideas.
What does the future of retail owned brands look like?
Shoppers want value from their private label brands and value translates to so much more than just being about price. We can no longer simply emulate the proprietary brands.
More and more consumers will begin to view private label as being experts and innovators in their fields rather than copiers of the category leaders. This has always been an obstacle for growth for own-brands.
How important is strategy to the success of a Private Brand?
Crucial. It's method, not luck that separates successful design from mediocre. You need to have a comprehensive picture of what is, and what might be, to understand your brand and it's place in the market. Build your brand from the inside out – this allows you to challenge norms and overturn the ordinary.
What role should design play in solving retail problems?
Design is a very powerful tool in its ability to express the intention of a product in a way that will get a positive emotional response. It's not enough for your product to only do what it promises – it must do so while winning over the hearts and minds of your consumer. Good design is good business.
What advice do you have for retailers trying to take their brands to the next level?
Continuous innovation. Don't sit still. Don't be copycatters, be category leaders. Build a strong communication strategy outside of packaging. Consider changing store formats. Move into new categories.
Paula Bunny, Creative Director, Brother Design
Auckland, New Zealand
Prior to returning to New Zealand to manage the Foodstuffs New Zealand's Pams brand, Bunny crafted private brand design for global companies including Johnson & Johnson, Gillette, and Kraft Foods.