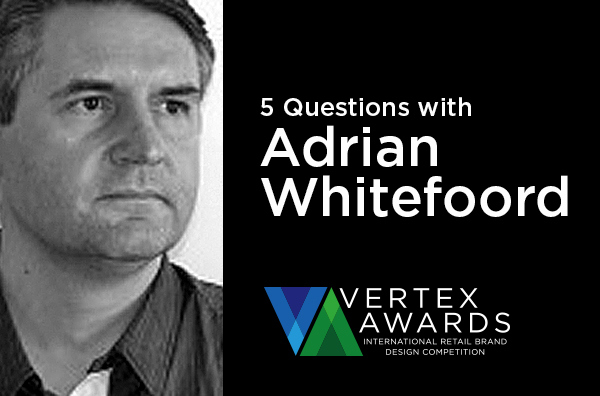 In preparation for the judging of the annual Vertex Awards International Private Brand Design Competition I sat down with each of the judges and asked them five questions about Private Brands, package design and differentiation – their answers present a unique global perspective and depth of knowledge of the retail brand space.
Today's conversation is with Adrian Whitefoord, Co-founder, Pemberton & Whitefoord (P&W),
London, England
What was your first memory/experience of Private Brand?
PERSONAL vs PROFESSIONAL: From a purely personal point of view it was shopping with my Mother in a recently opened Tesco store in my hometown of Kettering in midland England. I must have been about six and it was the first time I had been in a supermarket rather than shopping specialist stores such as butchers, bakers and greengrocers on a small town high street. I remember how impressed mum was by the price and the fact that she was doing a whole weeks shop under a single roof.
From a professional point of view, it has to be when Simon Pemberton (business Partner) and I secured our first project with Tesco UK (now the world's second largest retailer) having just set up our Partnership in 1987. It was all very exciting and as a two man band we did it all ourselves, with a couple of drawing boards, layout pads, MagicMarkers, Rotring pens and Cow Gum adhesive. How times have changed!
What does the future of retail owned brands look like?
ENJOYMENT vs ENDURANCE: That depends very much on the retail brand in question, one size and shape does not fit all However I do anticipate retailers defining greater focus in their proposition. The "salad days" of big food retailers in particular, being cold bland one-stop shops is, in my view, beginning to become tarnished, even old fashioned. In order to maintain consumer footfall, stores need to become destinations to be valued and enjoyed rather than endured, otherwise why not stay at home and shop everything online? Retailers should relearn how to become part of the community rather than try to dominate, they must collaborate and listen to shoppers in order to gain loyalty and maintain their customer base.
How important is strategy to the success of a Private Brand?
STRATEGY vs. SAVVY: Strategy is essential but it comes in different forms. It cannot be denied that textbook strategy is important in order that learning's are imparted by peers and scholars. Learning from other people's successes and failures teaches powerful lessons in all walks of life, not just branding, "we stand on the shoulders of giants". Strategic savvy gained from personal experience is, in my view, equally important; reading a book about chess and the great games played by grand masters is one thing, actually playing the game to win is another. Thirdly (and most contentiously perhaps) I believe strategy can be a function of individual instinct. Relying on a passion and a gut feeling of what is right can lead to more creative strategic paths than moving in conventional directions, however well tried and trusted they may be.
What role should design play in solving retail problems?
PROBLEMS vs PROGRESS: A very significant one. "Should" relates to the future not the present. The contribution of design with relation to the retail environment has never been more essential. For on-street retailing to endure, it has to deliver an experience that the shopper will embrace whether the broad brushstroke of design relates to; store layout, directional signage, point of sale communication, packaging, or the utilization of new media as a way of enhancing in-store communication. Good design makes life better, easier and more rewarding. Woe betides retailers that treat design as a commodity or a necessary evil. Design is the multi-faceted tool that connects customers with products emotionally and this can too easily be trivialized and unappreciated.
History illustrates, with great clarity, the benefits of great design in all arenas of cultural development, whether relating to architecture, engineering or retail store experience. Great design enhances, rewards and creates loyalty. It is the unsung hero of commerce.
What advice do you have for retailers trying to take their brands to the next level?
PASSION vs PURPOSE: It is a personal cliché that I have no shame in recycling again and again, the mantra that "it is better to lead than to follow". That is not to say that it is unimportant to analyze competitors whether they are national / international brands or rival stores. To ignore market trends and drivers puts any brand or retail brand in a position of weakened authority. P&W's trump card is its ability to see things from the customer's point of view. We generate packaging that has the prime objective of delivering better on-shelf presence, resulting in strategic and tactical solutions that meet commercial objectives. We have a great passion for what we do and how we help clients, whether they are multi-national companies or start-up businesses. Passion and clarity of thought are principles that make the difference.
Never fear innovation and never assume market domination represents invulnerability. Like great empires, brands ebb and flow. Identifying the boundaries between arrogance and confidence will determine performance and longevity.
Adrian Whitefoord, Co-founder, Pemberton & Whitefoord (P&W),
London, England
Whitefoord believes the best design requires a combination of emotion and logic. Pemberton and Whitefoord clients include Tesco, Nestlé, Starbucks and Seicomart.