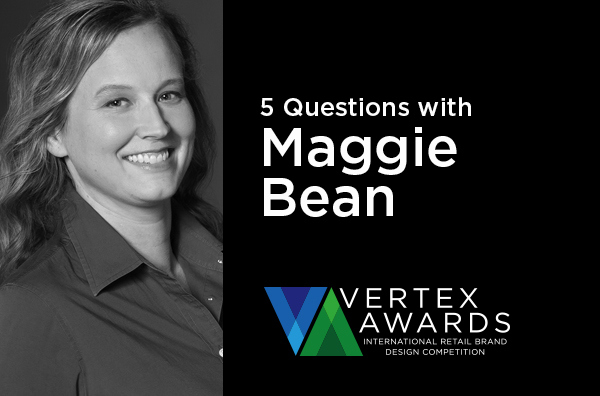 In preparation for the judging of the annual Vertex Awards International Private Brand Design Competition I sat down with each of the judges and asked them five questions about Private Brands, package design and differentiation – their answers present a unique global perspective and depth of knowledge of the retail brand space.
The competition closes January 15th so ENTER TODAY.
Today's conversation is with Maggie Bean, Creative Lead, Theory House, North Carolina, United States
What was your first memory/experience of Private Brand?
I grew up in a very small Southern U. S. town that had no major retailers at all. The grocery store was owned by the Slaughter family. The pharmacy was owned by Mr. Rutroph. And I pumped gas at my friend Stacy's dad's convenience store. So, in fact, every retailer in town was a private brand. They knew me and my neighbors by name and would customize their shelves to fit our needs.
What does the future of retail-owned brands look like?
With retailers like Target and Publix developing swoon-worthy, loyalty-rich private brands, it creates a new competitive landscape where retailers become the go-to experts of their customers' wants and needs. Great brands also make retailers destinations. If I want Threshold, I have to go to Target, and while I'm there I need detergent and toothpaste and paper towels and some yoga pants… Retailers almost have to have unique brands to attract customers, because everyone's got Tide, Crest and Bounty. The future for retailers is brands, plain and simple.
How important is strategy to the success of a Private Brand?
Strategy is king. You shouldn't build a house without a foundation, and you shouldn't build a brand without strategy. A solid strategy also makes my job—design—more focused, more relevant and, frankly, easier.
What role should design play in solving retail problems?
It depends on the problem. Design can be a very pretty band-aid, or it can completely reimagine and capture a brand. Design's role in problem solving is about its ability to communicate. Design can create an experience, can evoke a memory, can cause undeniable envy, can turn heads, can inspire confidence and can make a lot of promises. What does your brand need to say? Design can bring it to life.
What advice do you have for retailers trying to take their brands to the next level.
Study and embrace your failures. You don't achieve the next level by a magic formula or a clever redesign. To paraphrase Tolstoy, successful brands are all alike; every failure is a failure in its own way. Ask yourself, what did I fail at today? If you're failing, then you are attempting to do new, more interesting things. It also prevents you from being a copycat.
Maggie Bean, Creative Lead, Theory House
North Carolina, United States
The former principal of Karro Bean Design House, she has 20 years of creative development and strategy experience. She has worked on campaigns for The Fresh Market, Food Lion, and BB&T, and strives to bring fresh creativity to everything she works on.