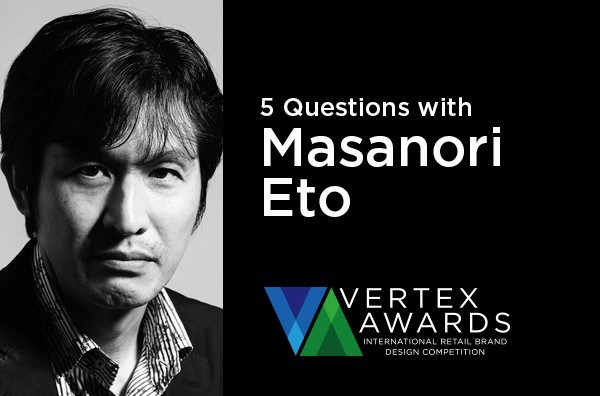 In preparation for the judging of the annual Vertex Awards International Private Brand Design Competition I sat down with each of the judges and asked them five questions about Private Brands, package design and differentiation – their answers present a unique global perspective and depth of knowledge of the retail brand space.
The completion closes January 15th so ENTER TODAY.
Today's conversation is with Masanori Eto, Creative Director, ADBRAIN, Inc. Tokyo, Japan
What was your first memory/experience of Private Brand?
Ten years ago, I designed one of CVS's retail brands in Japan. I made a series of related designs for stationery, something to compete with National Brands but promoting the everyday Private Brand products. I tried to include easily understandable classifications and reliable selection tools. Considering it now, there was no way to realize the innovation for one brand value. It was an idea ahead of its time in retail brand in Japan.
What does the future of retail owned brands look like?
It's not going to be a complete success by all retail brands. Only winners of the market will create their own brand value. It is not achievable only through great design. It is necessary to create based on a brand strategy that fits the consumers' needs. Private brands that can leverage the retailer's sales and market data are the ones who have the possibility to beat national brands.
How important is strategy to the success of a Private Brand?
Brand strategy is the most important item for the success of a private brand. First, it should be considered as corporate strategy. Next, look at the specific strategies for three directions of expansion: value and low price, value-added and high price, and individual consumer needs (for health, ecology, palatability, religion, gender and age). Additionally, there are four important keywords for creating that strategy: consumer needs, differentiation, innovation, and reliability. These are necessary in order to empathize with consumers.
What role should design play in solving retail problems?
First, the effective strategy is critically important, but success can only be achieved with design. However, the best design is authentic and real; it should not be a lie. Design must reflect a deep empathy for the needs of the consumer. Design must respect the customer and acknowledge that they are not stupid. Design's ultimate function must be to satisfy a customers needs and inspire choice. To do this, it is necessary for design to create "differentiation in the market" as well as a sense of "innovation in the consumer's mind".
What advice do you have for retailers trying to take their brands to the next level?
Building a successful private brand, requires time and money for creating strategy and design development. I advise only one thing. The first goal of salesmen of famous agencies known for their strategies is to increase their own results. In the same way, famous designers wish to create a prize-winning design; it is their first goal, too. Choose the agency that is innovative and honest!
Masanori Eto, Creative Director, ADBRAIN, Inc.
Tokyo, Japan
A board member of the Japan Package Design Association, Eto has over 25 years of package design and advertising experience. His designs have been recognized nationally in Japan and globally. He has also served on jury of the A'Design awards and competition (2014), Japan Package Design Award (2014) and The Dieline Awards(2015).