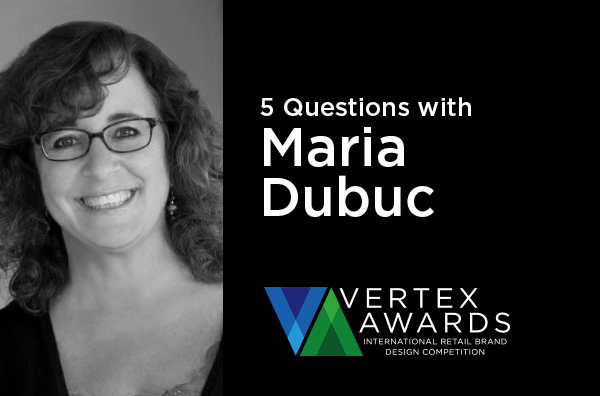 In preparation for the judging of the annual Vertex Awards International Private Brand Design Competition I sat down with each of the judges and asked them five questions about Private Brands, package design and differentiation – their answers present a unique global perspective and depth of knowledge of the retail brand space.
The competition closes January 15th so ENTER TODAY.
Today's conversation is with Maria Dubuc, Director, MBD; Vice President, Big Red Rooster
Massachusetts, United States
What was your first memory/experience of Private Brand? 
In the UK in the 90s, while meeting the guys who would become my future business partners. Their work for Waitrose, Marks & Spencer and Boots was better than any brand I had seen. So much care, passion and attention to detail – I knew similar values would come to the US market, and I could hardly wait to be a part of it!
What does the future of retail owned brands look like?
The sky's the limit. No more NBE's that are just far enough out to avoid a law suit. Retailers are engaging high-end design resources and creating targeted and elastic brands. I expect that store brands will begin to not only influence but set design trends in the very near future.
How important is strategy to the success of a Private Brand?
When it comes to the success of any product on shelf, brand design is everything and strategy drives design. Without a sound strategy, you're just making pretty pictures.
What role should design play in solving retail problems?
Design should play a role in not only the initial brand development but in the management of the brand as it progresses through it's life. Very often the strategy is slowly forgotten and the strength of brand and it's core values dilute.
What advice do you have for retailers trying to take their brands to the next level?
Stay true to your brand strategy and maintain focus & clarity in the message you portray to your customers. Digress only if you have a very good reason with a proper sub-brand or category specific strategy.
Also, let your store brand capture the positive aspects of the store experiences itself. Shoppers have an affinity for your store, that's why they shop there. Your brand identity is further communicated via store décor, the music you play, the signs you hang, employee attitudes and the stories they tell. Tie it all together and make bold choices – because as the retailer you can!
Maria Dubuc, Director, MBD; Vice President, Big Red Rooster
Massachusetts, United States
A 25 year pioneer in creative management, Dubuc's key talent is to combine a career's worth of branding experience into something personal and unique for each and every client. Smart & Final, The Home Depot, WinCo Foods and PriceSmart are among the retailer programs she currently runs.