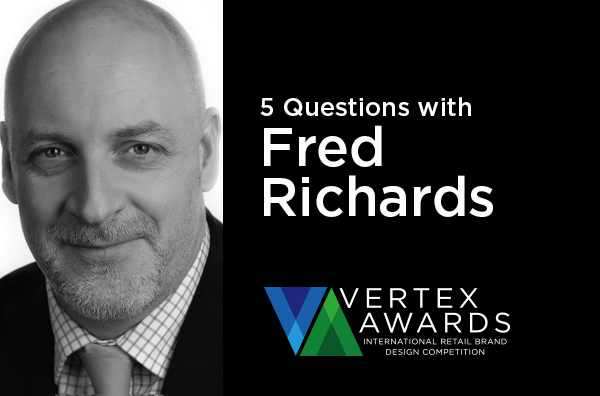 In preparation for the judging of the annual Vertex Awards International Private Brand Design Competition I sat down with each of the judges and asked them five questions about Private Brands, package design and differentiation – their answers present a unique global perspective and depth of knowledge of the retail brand space.
Today's conversation is with Fred Richards, CCO & Partner, Kaleidescope
Chicago, United States
What was your first memory/experience of Private Brand?
As a child being sent to "Liptons" in North Wales for my mother. I had limited money to purchase a can of baked beans. I was confronted with a white can and army style black stenciled lettering that simply said "Baked Beans" even at that very young age I was not impressed and did not make the purchase.
What does the future of retail owned brands look like?
If I were a brand I would be looking at this very carefully. Retail owned brands are at a tipping point of design and influence. The rules have changed as long as the trend of moving away from copycat thinking continues.
How important is strategy to the success of a Private Brand?
Crucial! Consumers have evolved and expect more. It can no longer be a simple value proposition at shelf or a look a like knock off of a brand. Retail brands can and should be offering compelling reasons to convince the consumers why. If you want to play with the big boys you need to act like the big boys.
What role should design play in solving retail problems?
As much as possible. Design is no longer a decorating process at the end of any retail or marketing situation. Design should be included in every step of the future of any retail or branding initiative to ensure a holistic consumer facing solution that delights and engages.
What advice do you have for retailers trying to take their brands to the next level?
Think BIG! Try things on! Learn, adapt and understand that the world has changed, consumers have evolved…. enjoy the journey and set new standards for everyone.
Fred Richards, CCO & Partner, Kaleidescope
Chicago, United States
Richards has over 20 years of creative experience in branding and design, with MLR Chicago, FutureBrand, Interbrand and The Brand Union. He has led creative development initiatives for clients including P&G, Bayer, Wrigley and Unilever.
The completion closes January 15th so ENTER TODAY.